ENG: Ancillotti is a band that not only encompasses the history of Italian heavy metal but above all is a family formed by: Daniele "Bud" Ancillotti, long standing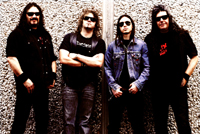 singer of the Italian Heavy Metal band Strana Officina as well as founder of Bud Tribe, his brother Sandro " Bid" Ancillotti bass player with Bud Tribe , Brian Ancillotti drummer and member of the band Junkie Dildoz and guitarist Luciano "Ciano" Toscani leader and founder of the band Listeria on the Italian hard & heavy scene for more than twenty years playing tour with international names such as Michael Schenker Group, Dokken, Anvil and many others.
The monicker Ancillotti is the best expression of the concept of family and after several shows on 2012 Ciano composes a good number of riffs and song ideas that are brought to various forms of completion by the band and then, in july of the same year, Ancillotti enter Tartini Studios 5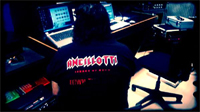 in Italy with the producer Fausto Tinello, to record their first EP called "Down this road together" selfproduction reserved only for the friends and fans and printed on limited edition 300 copies.
The music is dynamic and powerful with monstrous riffs that become big-time rock anthems such as "Bang your head" "Legacy Of Rock", "Living For the Nightime", "Warriors" or passionate and emotive ballads such as "Sunrise". Beyond the music, Ancillotti is a real band, establishing a trust in one another that happens very rarely in the music world. On 2013 thanks the success of the "Down this road together" ep, ANCILLOTTI signed the deal with the German label 'Pure Steel Records' for the they debut album "The chain goes on" released on 2014 with worldwide distribution in Europe, Japan, North- and South America, Asia and Oceania.
The new album got amazing reviews from renowned magazines, blogs and websites all over the world and Fans, webzine's, magazine's, Newspaper's have elected "The Chain goes on" one of the best 2014 Heavy Metal album! The bigger Rock-radios in Germany, Italy, Belgium, Holland, France, Spain, Greece, UK, Argentina, Belgium, Norway, Japan, USA play the first single "Bang your Head" and more tracks from the album. In 2014, ANCILLOTTI will embark in their European tour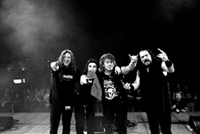 and since first bursting on to the scene, ANCILLOTTI has also become an explosive live presence with amazing reaction everywere. More than two and a half years after the longplayer debut The Chain Goes On" (also released through Pure Steel Records) ANCILLOTTI are back with their second output "Strike Back" and also on Italians and European stages for promove they brand new album!! New show, new energy and new songs!! The Traditional Italian steel is reborn!

ITA: ANCILLOTTI una band che racchiude la storia dell'heavy metal made in Italy, una famiglia formata da Daniele "Bud" Ancillotti,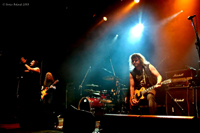 storico cantante della Strana Officina e Bud Tribe, Sandro"Bid"Ancillotti bassista dei Bud Tribe , "Brian" Ancillotti batterista degli Junkie Dildoz e il chitarrista "Ciano" leader e fondatore degli Emiliani Listeria sulle scene da più di 20 anni con alle spalle tour in compagnia di band come Michael Schenker Group, Dokken, Anvil, ecc. Il monicker Ancillotti è la migliore espressione del concetto di famiglia , il nome della band è infatti un omaggio al padre di Bud e Bid nonchè nonno di Brian, Renzo Ancillotti.
Dopo diversi live nel 2012 Ciano compone un buon numero di riff e idee musicali che vengono portati a varie forme di completamento da parte della band e nel luglio dello stesso anno , Ancillotti entrano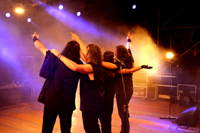 ai Tartini Studios 5 di Parma in Italia con il produttore Fausto Tinello, per registrare il loro primo EP dal titolo "Down This Road Together". La musica è dinamica e potente, con riff mostruosi che diventano inni al rock come " Legacy Of Rock" o "Warrior ", o passionale ed emotiva come in"Sunrise" . Ancillotti è una band con una forte intesa fra i componenti della band, intesa che accade molto raramente nel mondo della musica . Alla fine del 2012, grazie al successo di " Down This Road Together " ANCILLOTTI firmato l'accordo con l'etichetta tedesca Pure Steel Records per il loro album di debutto con distribuzione mondiale in Europa , Giappone, Nord e Sud America, Asia e Oceania .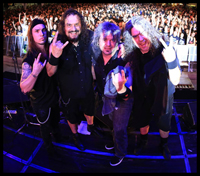 Il nuovo album ottiene fantastiche recensioni da riviste di fama mondiale, blog e siti web in tutto il mondo!...fans, webzine, riviste e giornali di settore eleggono "The Chain goes on" uno dei migliori album Heavy Metal del 2014! Le più grandi Rock-radio in Germania, Italia, Belgio, Olanda, Francia, Spagna, Grecia, Regno Unito, Argentina, Belgio, Norvegia, Giappone, Stati Uniti passano il primo singolo "Bang Your Head" e altri brani tratti da The chain goes on. Nel 2014, ANCILLOTTI si imbarcheranno nel loro primo tour europeo e dalla prima comparsa sulle scene, ANCILLOTTI diventata una presenza dal live diretta ed esplosiva che raccoglie una sorprendente reazione ovunque. A distanza di due anni dall'album di successo "The chain Goes On" ANCILLOTTI ritornano con la loro nuova fatica" Strike Back " a calcare i palchi Italiani e Europei a promozione del nuovo album!...Nuovo spettacolo, nuova energia e nuove canzoni!! L'acciaio tradizionale italiano è rinato!
ANCILLOTTI are from left to right: Ciano/Guitars Bid/Bass Brian/Drums Bud/Vocals.