27/02/2020 ANCILLOTTI 10TH YEARS ANNIVERSARY SHOWS - CANCELLED!
(English version below)
Cari amici, come annunciato pochi mesi fa .... prima dell'uscita ufficiale del nostro nuovissimo album "Hell On Earth" ... nel calendario avevamo già confermato due spettacoli speciali per celebrare il nostro decimo anniversario come band da annunciare questi giorni!
Purtroppo siamo rattristati di annunciare che dobbiamo cancellare questi spettacoli speciali in programma a causa, come sapete, della persistenza dell'allarme del Coronavirus in molte parti d'Italia.
Ci dispiace molto .... ma al momento non c'è via d'uscita!
ANCILLOTTI
Dear friends, as announced few months ago.... before the Official release of our brand new album "Hell On Earth" ... we had in the calendar two special show already confirmed to celebrate our 10th anniversary as a band to announced on this days!
Unfortunatly we are saddened to announce that we must cancel these special shows scheduled due to the persistence of the Coronavirus alarm in many parts of Italy.
we're very sorry....but at the moment no way out!
24/02/2020 THE SHOOTING SCENES FOR UPCOMING NEW VIDEO ARE DONE!
we spent the last weekend in Modena (Italy) recording the music video for the new song "Revolution" taken from upcoming new album "HELL ON EARTH"
The new video it was directed and will be produced by the amazing Patrizia Cogliati (www.musicphoto.it) the backstage photo report was edited by Anna Paladin from Rockmylife.it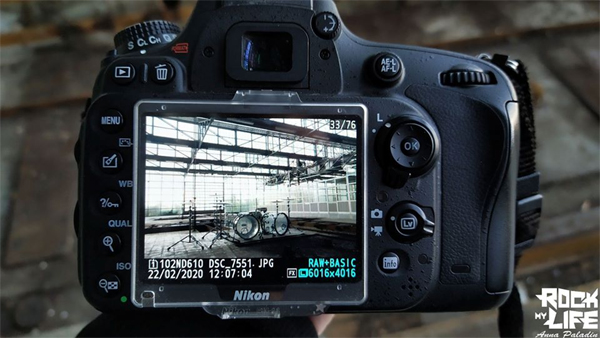 13/02/2020 ANCILLOTTI ANNOUNCE THE NEW MUSIC VIDEO FROM "HELL ON EARTH" ALBUM!
(Italian version below)
It's official!!..On 22th February in Modena - Italy we will shot
the first single video for the song "Revolution" taken from the upcoming new album "HELL ON EARTH".
The video will be directed by Patrizia Cogliati and with this track will being you know what you're getting into and will be the biggest ANCILLOTTI video production ever!
play me that rock from hell
don't turn your back
my mind was screaming
on the stage we cast the spell!
Find true rockers
when you call
when the night comes down
down on this barren land
ITA:
È ufficiale !! .. Il 22 febbraio a Modena in Italia, gireremo
il primo single video del brano "Revolution" tratto dal nuovo album in uscita "HELL ON EARTH".
Il video sarà diretto da Patrizia Cogliati e con questa traccia saprai in cosa ti stai cacciando e sarà la più grande produzione video della band fatta ad oggi!
suonami quel rock dall'inferno
non voltare le spalle
la mia mente urlava
sul palco lanciamo l'incantesimo!
Trova veri rocker
quando chiami
quando scende la notte
giù su questa terra sterile...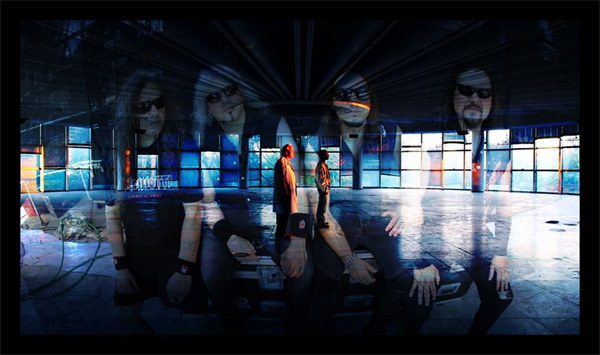 05/02/2020 ANCILLOTTI ANNOUNCE THE "HELL ON EARTH ALBUM RELEASE PARTY!"
(Italian Version below)
Dear friends, We are a few months away from the new album release, and we couldn't be more excited
So...thanks to IDRA Eventi e Booking we can right here right now announce the " HELL ON EARTH ALBUM RELEASE PARTY!" on
Saturday MAY 23th , 2020 at the awesome venue CAMPUS INDUSTRY - PARMA (IT)
FB page: https://www.facebook.com/campusindustrymusic/
webpage: http://www.campusindustrymusic.com/
The band will be headliner for the "Thunder and Steel Metal Fest"
so..mark your calendar now for May 23, 2020 and come out have a drink with us and celebrate the birth of our latest monster!
We can't wait to share this album with you!
ITA:
Cari amici, siamo a pochi mesi dalla pubblicazione del nuovo album e non potremmo essere più entusiasti
Quindi ... grazie a IDRA Eventi e Booking possiamo proprio ora annunciare il " HELL ON EARTH ALBUM RELEASE PARTY!"
Sabato 23 maggio 2020 nella splendida sede del CAMPUS INDUSTRY - PARMA (IT)
Pagina FB: https://www.facebook.com/campusindustrymusic/
pagina web: http://www.campusindustrymusic.com/
La band sarà headliner per il "Thunder and Steel Metal Fest"
quindi ... segnatevi la data in calendario ora per il 23 maggio 2020 uscite a bere qualcosa e festeggiate con noi la nascita del nostro ultimo lavoro!
Non vediamo l'ora di condividere questo album con voi!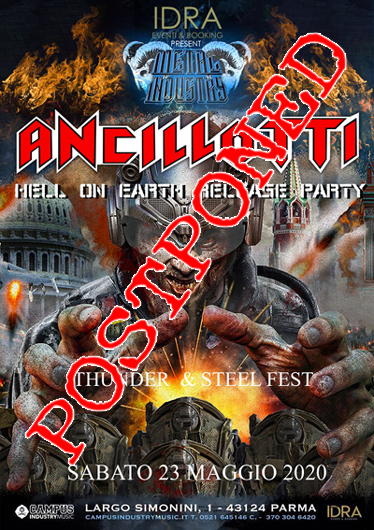 15/01/2020 ANCILLOTTI 10 YEARS OF HEAVY METAL!
ANCILLOTTI this year will celebrate 10 years as a band
When we founded ANCILLOTTI in 2010, we had no idea how it would grow.
On this year, in honor of our 10th anniversary, we are celebrating what we have accomplished and looking to the future.
This year the band will launch their 3th studio album "Hell On Earth" followed by a great tour but before we would like to thank all of you..our fans and friends, labels, promoters, magazine's, newspaper's, Radio's around the world who helped and supported us over these years.....and we think this deserves a celebration with a very few show's with a special live set!..
ANCILLOTTI 10 years of Heavy Metal ....soon on the road!
18/11/2019 "HELL ON EARTH" MASTER DONE!
Warriors...the mastering phase is ended and we are very grateful to Jacob Hansen at Hansen Studios for his awesome work.....you know Jacob..you are the king and a very cool person..and of course also to our producer Gabriele Ravaglia at the Fear Studio for his constant support...Thank you Gabry!
More news about the cover art, new video and more..very soon!
The contdown is begun!..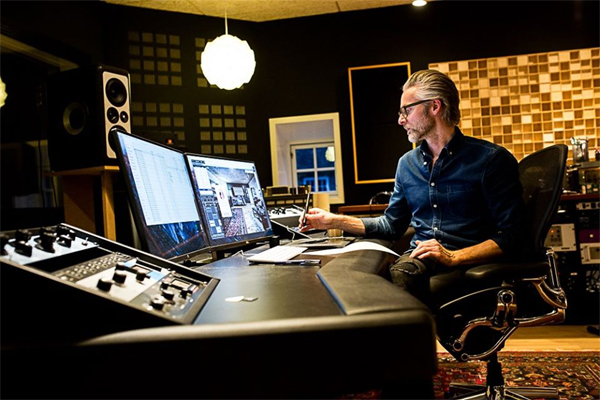 .
8/11/2019 HELL ON EARTH" STRIKE AGAIN!
What a Pleasure read a great reviews after the hard work!...Now we know that the press love it!!...
Here we are with the third listening session report on "Hell On Earth! by F.Guarreschi on Rockismi Newspaper!
Thanks Fabio..
Good Reading!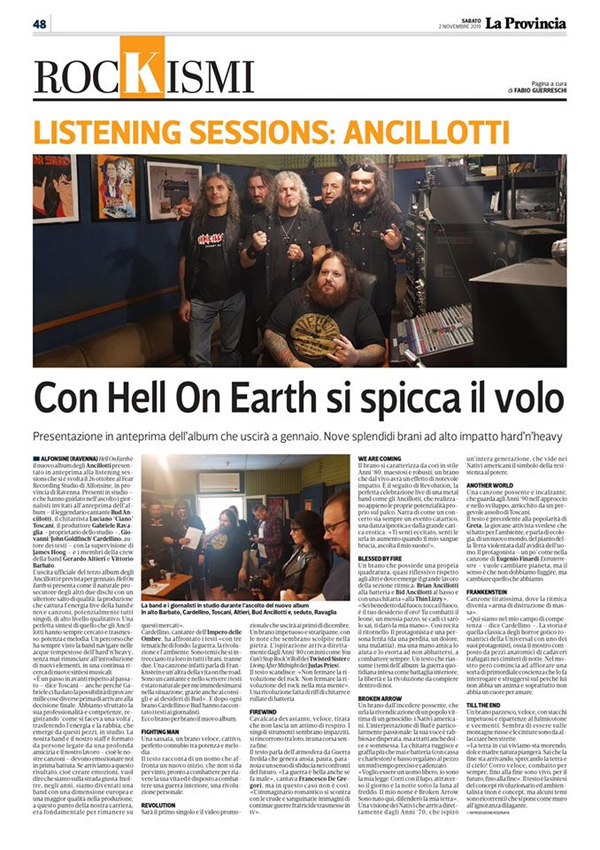 2/11/2020 SECOND "HELL ON EARTH" TRACK BY TRACK ON LOUD AND PROUD MAGAZINE!
A new statements after "HELL ON EARTH" - listening session from Loud and Proud Italy magazine by Martino Brambilla Pisoni.
Thank you Loud and Proud Italy
The wait is nearly over!
Read the Report here
29/10/2019 EXCLUSIVE "HELL ON EARTH" LISTENING SESSION REPORT FROM ROCK MY LIFE MAGAZINE.
Ladies and gentleman here we are ..below the very first listening session report from Rock My Life zine on the brand new album "HELL ON EARTH" By Anna Paladin
Thank you Rock my Life and...good reading!
Read the Report here
Report by: Anna Paladin
Ph. credits by: Graziella Ventrone
26/10/2019 ANCILLOTTI NEW WORLDWIDE ALBUM PRE - LISTENING SESSION.
(Italian version below)
After many months of silence and work..today start a new challenge. We are very ecxited to introduce the brand new album at the media.
Yes..This weekend will be played first time ever the brand new album at the Fear Studios in Italy...
You are curious to know the impressions from those who attended?
we too......but we are back!!
Dopo molti mesi di silenzio e .lavoro, oggi inizia una nuova sfida. Siamo molto entusiasti di presentare il nuovo album ai media.
Sì ... Questo fine settimana verrà fatto ascoltare in anteprima per intero il nuovissimo album della band ai Fear Studios in Italia ...
Siete curiosi di conoscere le impressioni di chi ha partecipato?
anche noi ...... ma siamo tornati !!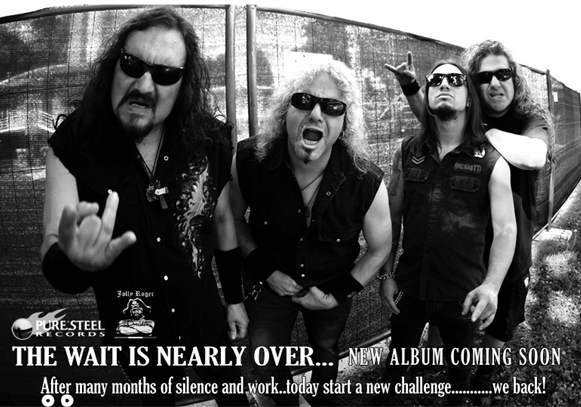 27/08/2019 BREAKING NEWS!...NEW ALBUM AND SHOW!
The mix of the new album is ready and the first mastering tests are coming.
Our producer Gabriele Ravaglia at Fear Studios did a really awesome job
it's really a pleasure to hear your music with such a fun and intense production!
Also ANCILLOTTI are confirmed as Headliner at the Fuck We rock Fest in Italy...click on the tubnail below and see you at the Fuck we Rock Fest .. see you soon for more news!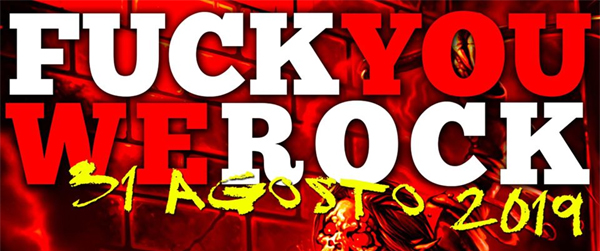 26/07/2019 LUPPOLO IN ROCK THANK YOU!
H. 7 p.m - Luppolo In Rock ..Temperature 40 degree celsius....no words!...you're the Warriors not us !
Thank you Luca Bernasconi @ Loud and Proud Italy for capture the moment!
Ore 19:00 - Luppolo In Rock .. Temperatura 40 gradi Celsius .... voi siete i Guerrieri, non noi!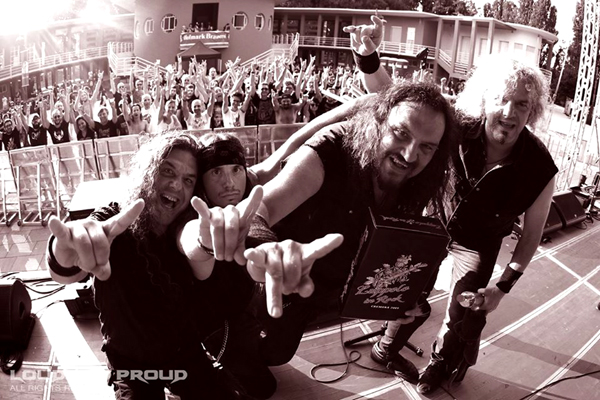 ANCILLOTTI RECORDINGS ENDED!
ANCILLOTTI and crew (from the left Brian, Bid, Jerry G, Cesco, Nick, Ciano, James, Freddy, Eddy, Bud)
come togheter with the vocals producer Freddy Delirio at FP recording studio for record the last backing vocals of the upcoming new album.
Now the recordings are official ended!
We want say thank you so much to Simone Manuli for his awesome work on keyboards, Fausto Tinello for his help to Ciano and last but not least our brothers Jhon Goldfinch and James Hoog for they incredible work on the lyrics ....Legacy of rock brothers!
Now the time is come, our new producer Gabriele Ravaglia at Fear Studios will began the mix of the whole album.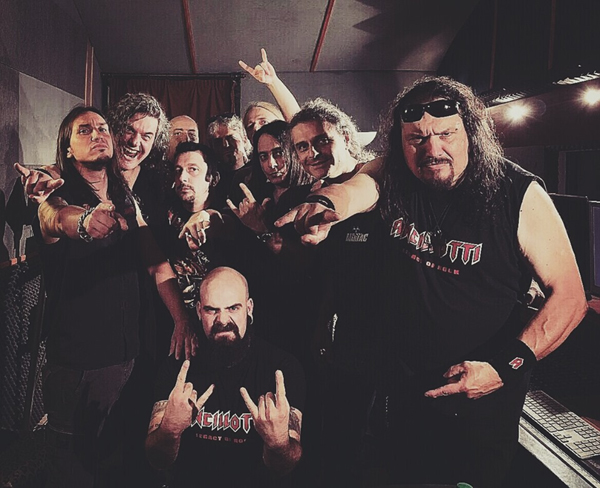 OFFICIAL TITLE AND ARTWORK FOR NEW UPCOMING ALBUM CHOSEN!
ANCILLOTTI are ready to return on the scenes with the awaited new album and we're so excited to announce that new album cover is ready and new title chosen.
The artwork was created by the great art designer Augusto Peixoto from Portugal at Iron Doom Design.
We love the new cover art !so..thanks Pure Steel Records and welcome aboard Augusto ... awesome work!
Stay tuned for more news!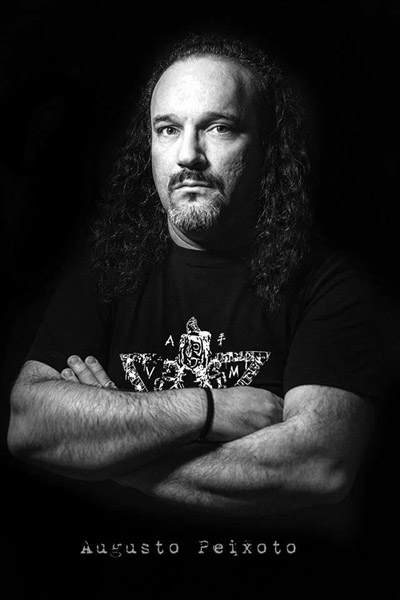 SIMONE MANULI ON NEW ALBUM!
We are pleasure to confirm our collaboration with a friend and amazing music composer .... Mr. Simone Manuli.
Simone is a keyboard player and music composer with contemporary classical and electronic touch. He has scored the music for a famous documentaries, exhibitions and shows also has worked with the band on The Chain goes on and Strike Back Albums.
Once again...welcome aboard Simo!. ....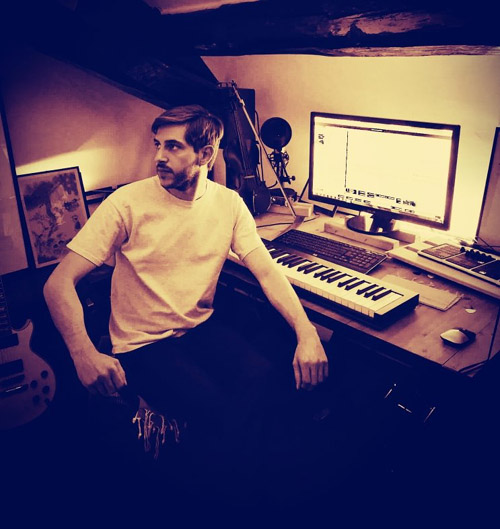 BUD START HIS VOCALS RECORDINGS SESSION FOR A NEW ALBUM!
As announced here we are for more news about the new album.
After Ciano finished his guitar recordings, now it's time for the vocals!
Bud has began his recordings this week at FP RECORDING STUDIO in Lucca under the direction of the great producer and sound engineer Freddy Delirio and the master James Hogg for the lyrics.
join Bud in studio and stay tuned for more news very soon!!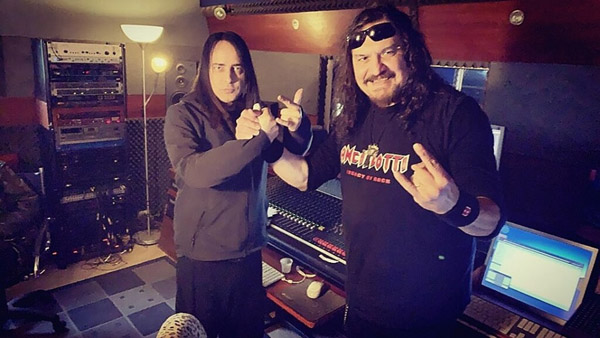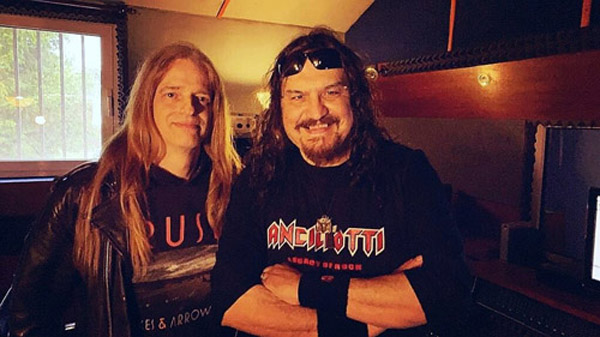 CIANO RHYTHM GUITARS ARE RECORDED!
Great news from the Fear Studios, all rhythm guitars of new album are recorded!
What a Heavy guitar tone!!....thank you Gabriele Ravaglia!
As always Ciano have his rhythmic trademarks ..He gets in, blows his load and gets out... excellent work by Ciano!
Now that we have drums, bass and rhythm guitars finished, we're able to get an idea what our album will sound like and we're very excited!
The Next one..Bud !.....see you next week for more news about the Bud recordings!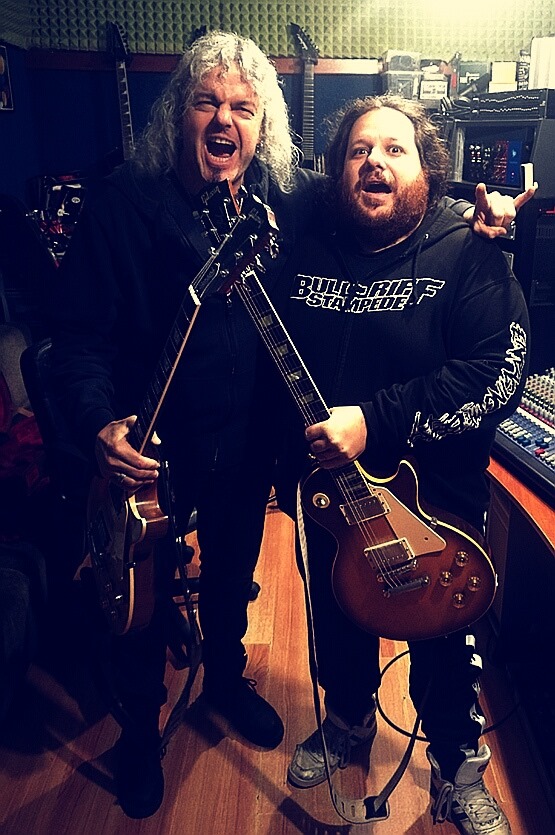 ANCILLOTTI RE-SIGN A NEW WORLDWIDE DEAL WITH PURE STEEL RECORDS - GERMANY!
We are very proud to announce that we have just resigned today a new worldwide deal with the Germany Pure Steel Records for the release of our new album.
We think the new record will be our best album so we feel very comfortable with Pure Steel Records.
The mutual understanding is perfect and our individual wishes and ideas was respected and this is obviously the good think for us in the music business nowadays.
New killer album are coming..so..see you soon brothers!!

BASS RECORDINGS DONE!!
we came back at Fear Studio for more days of recording and started the bass session with the mighty Bid...No words . now the music is as a runaway train.. Horns up and the next one... Ciano!.. Stay tuned brothers and happy Easter to everyone!
DRUM RECORDINGS ARE ENDED!!
What a sound...for the first time we have the same loud and power sound as a live.. and this album will be a new start to reload the sound of the band... A very great job from our producers Gabriele Ravaglia and Antonio Aronne... So.. Stay tuned and follow the band in studio...Next the rhythm machine Bid and his bass next week!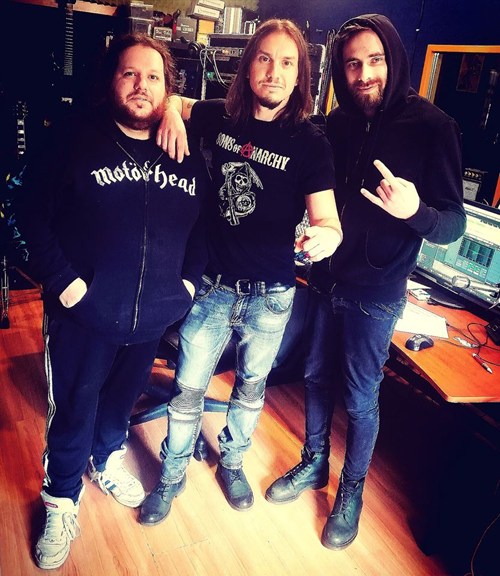 IT'S OFFICIAL: ANCILLOTTI BEGIN RECORDING NEW ALBUM!!
(Italian Version follow)
13th April 2019!..the date is come!..
A very few days to come back in studio working on the new album - we've booked all recording studios ..we have an incredible production team with Gabriele Ravaglia - Fear Studio - Italy - - Freddy Delirio - FP Recording Studio and Simone Manuli as special guest on Keyboards/Intro and effects.
New loud elements and good wibe in our music...and If you have seen our last shows .....you know where we want going!
::::::::::::::::::::::::::::::::::::::::::::::::::::::::::::::::::::::::::::::::::::::::::::::::::::::::::::::::::::
È ufficiale: ANCILLOTTI Iniziano a registrare il nuovo album !!
13 aprile 2019! .. la data è arrivata! ..
Pochi giorni per tornare in studio e lavorare sul nuovo album - abbiamo prenotato tutti gli studi di registrazione .. abbiamo un incredibile team di produzione con Gabriele Ravaglia - Fear Studio - Italia - Freddy Delirio - FP Recording Studio e Simone Manuli come special guest su Keyboards / Intro ed effetti.
Nuovi potenti elementi e buone vibrazioni nella nuova musica composta ... se siete stati ai nostri ultimi show... sapete dove vogliamo andare!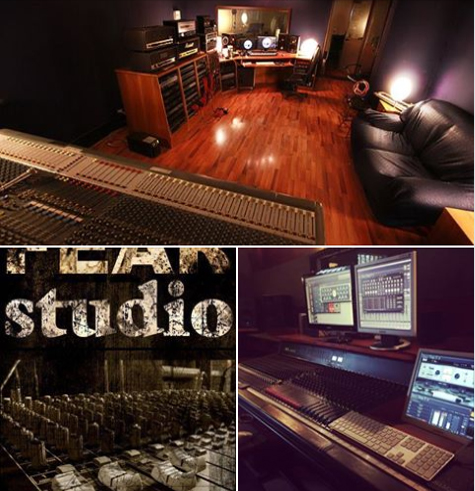 25/03/19 ANCILLOTTI EXCLUSIVE INTERVIEW ON LOUD AND PROUD ITALY ON NEW UPCOMING ALBUM!
Check it out!..cheerz!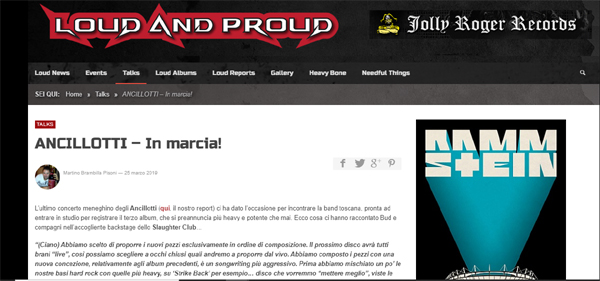 18/03/19 LISTENING THE PRE - PRODUCTION. OF BRAND NEW ALBUM!
Awesome vibe during this pre-production and everybody in the band did a killer job!... We are very excited...we expect a full energy driven album.
we will start the recordings on 13th april!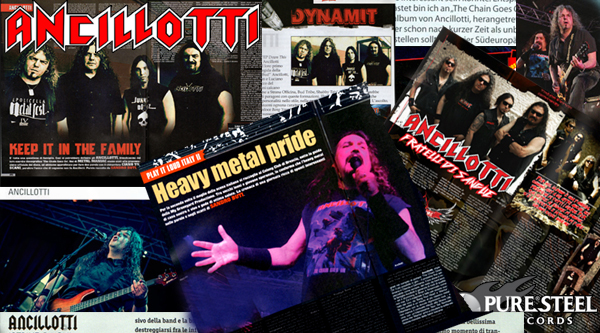 20/05/2018 NEW MILAN - SLAUGHTER LIVE REPORT ON LOUD AND PROUD MAGAZINE!
Nice review of the Milan gig by M. B. Pisoni - Check it out!
Thank You Loud and Proud Italy
Photo credit to L.Bernasconi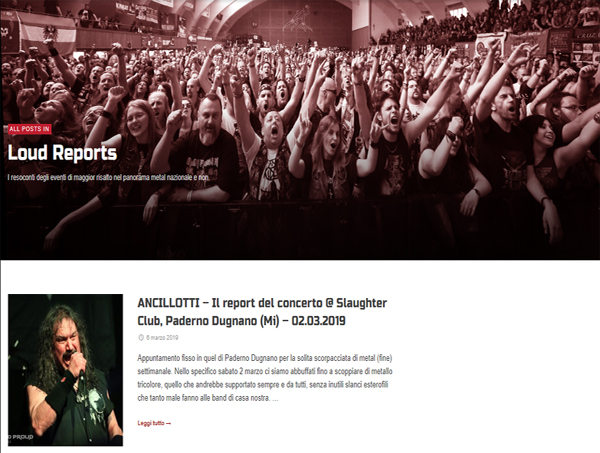 SLAUGHTER CLUB MILANO!
Thank you Milano for a fantastic night!!!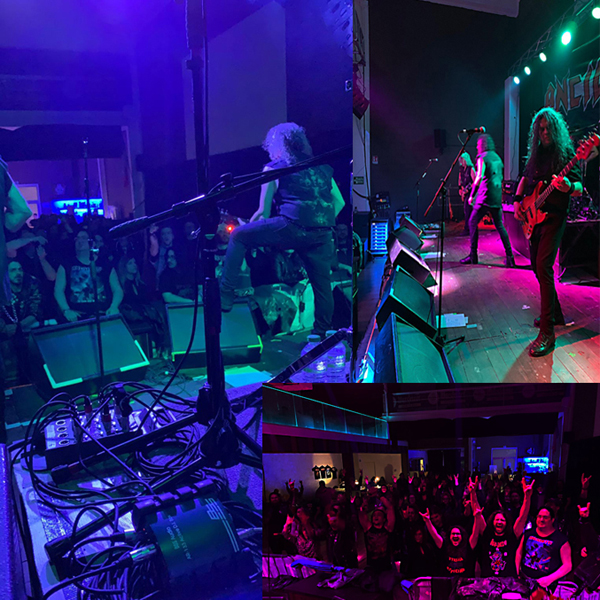 ANCILLOTTI ANNOUNCED FOR LUPPOLO IN ROCK OPEN AIR!
ANCILLOTTI are pleased to announce they will be at the mighty Luppolo in Rock Festival in Cremona, Italy on 13th July 2019!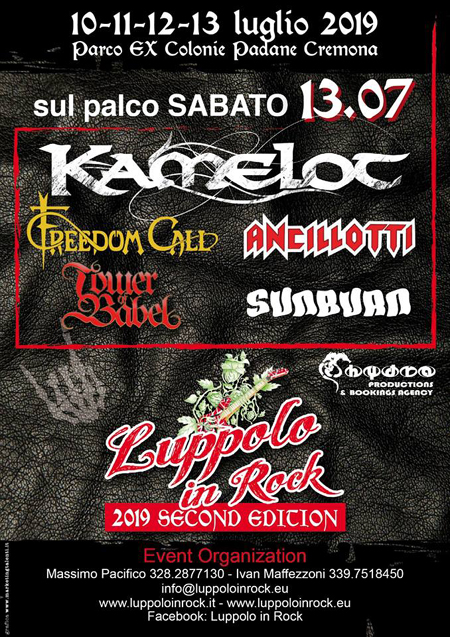 See ANCILLOTTI at the following shows:
Slaughter Live Club (Milano- Italy) - 2/03/2019
Link Event: https://www.facebook.com/events/1153463038162848/
Luppolo In Rock Open Air (Cremona – Italy)
Link Event: https://www.facebook.com/Luppolo-In-Rock-489506358246312/
26/1/19 ANCILLOTTI ENTER THE STUDIO FOR NEW ALBUM!
We are pleased to announce ANCILLOTTI will be entering at Fear Studio in Italy on April 13 2019 to record the new studio album!
So expect a new album this year!
Let's make this thing heavy!!!.
Siamo lieti di annunciare che ANCILLOTTI entreranno ai Fear Studio in Italia il 13 aprile 2019 per registrare il nuovo album in studio!
Aspettatevi dunque il nuovo album entro quest'anno!